Robin Preiss Glasser, the Children's Book Council's "2013 Illustrator of the Year," has had two successful careers in the arts, the first as a ballet dancer and then as a best-selling children's book illustrator.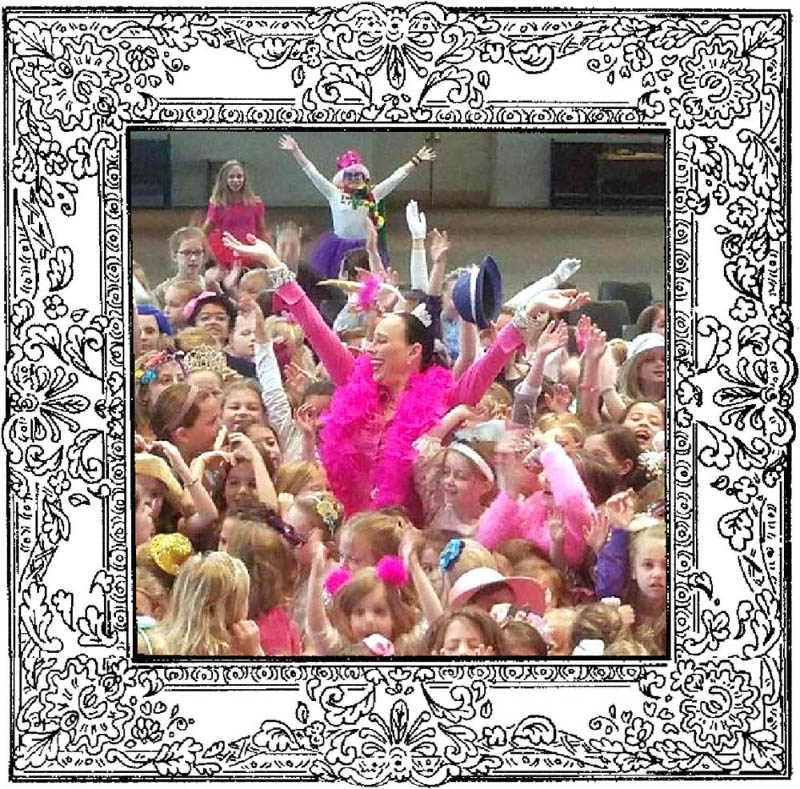 After 11 years performing with the Pennsylvania Ballet, Robin returned to school at age 30 to receive her BFA from Parsons The New School for Design. From her first book, Judith Viorst's Alexander, Who's Not (Do You Hear Me? I mean It!) Going to Move, through numerous others with such authors as Garrison Keillor, Lynne Cheney, and Sarah Ferguson, the Duchess of York, one can see how the years Robin spent studying dance have infused her illustration style with movement and joy.
In 2005, Robin was paired with author Jane O'Connor for the now classic Fancy Nancy series, of which there are more than 80 books, including a chapter book series for older children. Fancy Nancy books have been on the New York Times Bestseller list for more than 330 weeks, selling over 34 million volumes, and Nancy now stars in her own Disney television animated series which premiered in 2018.
Robin's most recent book, Lambslide, written by international best-selling author Ann Patchett, was released in May. Their second book, Escape Goat will come out next year. Robin has two grown children, Sasha and Benjamin, and lives in San Juan Capistrano, California, with her husband, attorney Robert Berman.
Robin Preiss Glasser has had two successful careers, the first as a ballet dancer and the second as a best-selling children's book illustrator. It is the years Robin spent studying dance that have infused her illustration style with movement and joy. Drawing the body in motion comes very naturally to Robin and the exaggerated movement and expression a dancer needs to tell a story without words has also been a lesson that translated well to Robin's second career. Now, with over 100 titles to her credit and more than 38 million books sold, this winner of the Children's Book Council's "Illustrator of the Year Award" in 2013 is best known as the illustrator of Fancy Nancy, the "more is always better" heroine of the New York Times best-selling series with author Jane O'Connor.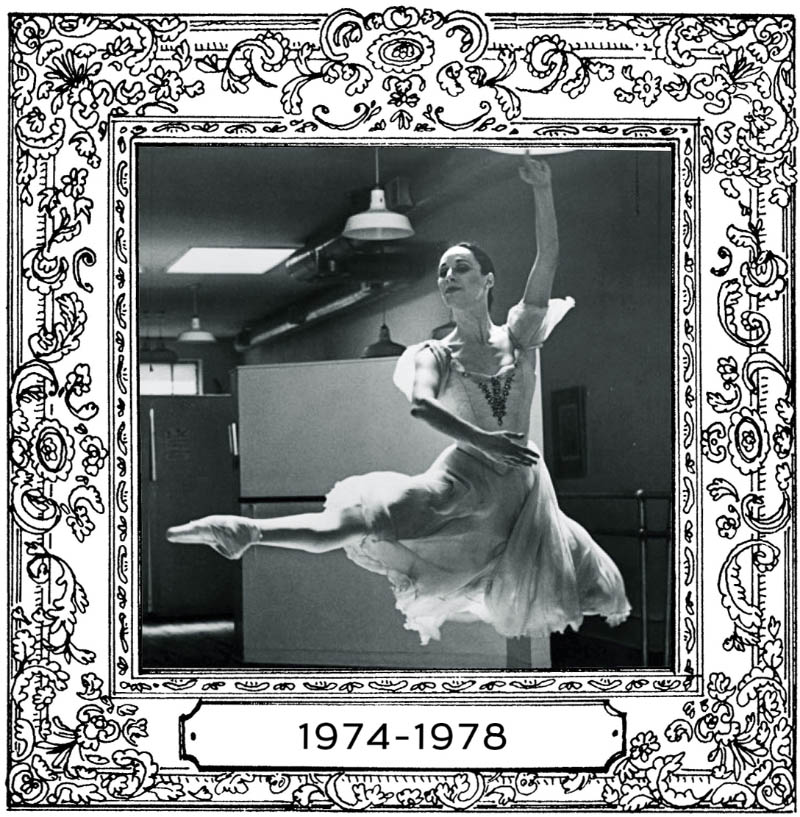 Born on October 4, 1956 in Poughkeepsie, NY, Robin was the eldest of four sisters who all took ballet lessons and went regularly with their parents to museums and cultural performances in New York City. At age 13, Robin spent the summer studying dance at Interlochen National Music Camp, but declined a full scholarship for the following year in order to study at Balanchine's School of American Ballet. By age 15 she'd moved to NYC after being chosen to join the scholarship program at the American Ballet Theatre school (now known as the Jacqueline Kennedy Onassis School), while attending high school at the Professional Children's School.
Upon graduation, Robin danced abroad for a year with the Israel Classical Ballet, returning to the US when Benjamin Harkarvy invited her to join the Pennsylvania Ballet. Robin went on to become a soloist with the company, best remembered for her humorous roles and character performances.
Throughout the 11 years Robin performed and toured as a dancer, she continued to study drawing, a talent at which she excelled from an early age. Like a professional athlete, a ballet dancer's career is rarely long-lasting. When a back injury forced Robin to quit, she took her stacks of sketchbooks – filled over the years while the dance company was not in rehearsal or touring – to Parsons School of Design in New York City. Hoping for admission at the ripe old age of 30, Robin was offered a full scholarship to study children's book illustration and she received her Bachelor of Fine Arts in 1990.
Ever confident, Robin expected to take the publishing world by storm, but it took her five years to land her first book. In between she designed posters, theatrical costumes, and greeting cards. When the call came, it was for the opportunity to try and imitate the style of illustrator Ray Cruz, whose health no longer allowed him to draw the beloved Alexander character in Judith Viorst's wildly successful children's book series. Robin jumped at the chance, despite having just gone into labor with her son literally hours before, and thus her career as a children's book illustrator began with Alexander, Who's Not (Do you hear me? I mean it!) Going to Move (Atheneum, 1995).
Robin went on to do two more books with Ms. Viorst: You're Officially a Grown-Up (Simon & Schuster, 1999) and Super Completely and Totally the Messiest (Antheneum, 2001). Additionally, the Alexander book was made into a musical produced by the Kennedy Center in Washington, D.C. and Robin drew her first face for a licensed doll when all the Alexander books were gathered in the anthology Absolutely, Positively Alexander (Antheneum, 2002).
Meanwhile, Robin received an ALA Notable Book Award for You Can't Take a Balloon into the Metropolitan Museum (Simon & Schuster, 1998), followed by two more books in this series created with her sister, author Jacqueline Preiss Weitzman. These wordless books display Robin's signature humor and clever ability for controlling chaos on the page as the reader follows two parallel stories – that of a runaway balloon flying around a city, and the mirrored images of real paintings and sculpture that the balloon's owner is viewing inside a museum. Using a pen-and-ink cross-hatching style she had developed on the Viorst books, Robin highlighted the stories' action in watercolor paints, the illustration style for which she is now best known.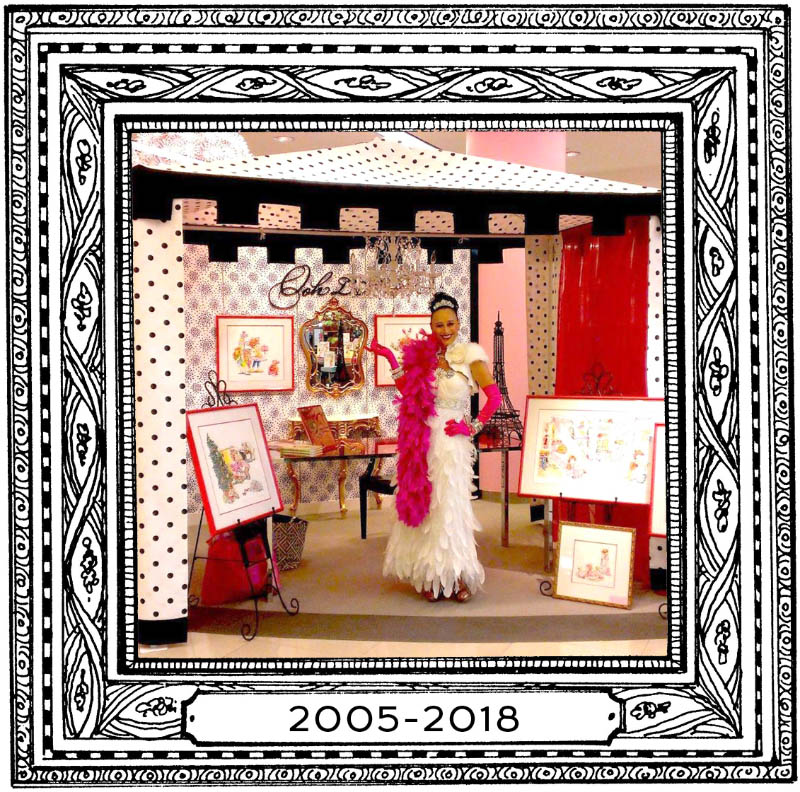 It was that first balloon book that brought Robin to the attention of the former Vice-President's wife, Lynne Cheney. An assistant to the second lady of the land happened to show it to Mrs. Cheney just as she was searching for an illustrator for what was to become her first children's book. America, A Patriotic Primer (Simon & Schuster, 2002) stayed on the New York Times Best Seller List for six months. A second book by the team, A is for Abigail: An Almanac of Amazing American Women (S&S, 2003) followed, to critical success and another long run on the New York Times Best Seller List. Robin illustrated a third book with Mrs. Cheney, Our 50 States: A Family Adventure Across America (S&S, 2006), and together these three titles sold more than 1 million copies. 
Robin has always created characters based on people in her life, and her next book, Daddy's Girl (Hyperion, 2005) by radio star Garrison Keillor, is no exception. The sweet, Manhattan-savvy little girl in the four story-songs that make up this picture book is based on her curly-headed nephew Alex, who willingly posed for the many photographs on which Robin could model the little girl. And the final book illustrated before Fancy Nancy changed Robin's life forever is the charming A Sock is a Pocket for your Toes (HarperCollins, 2004), by award-winning poet Elizabeth Gratin Scanlon.
Robin received the manuscript for Fancy Nancy in 2002, but was already committed to the trilogy of history books with Lynne Cheney. Luckily Margaret Anastas, Robin's gifted editor at HarperCollins, and author Jane O'Connor, agreed to wait for Robin's schedule to free up. While it took Robin two years to research and draw all the intricate illustrations in Our 50 States, creating Fancy Nancy for her was a snap. In fact, the iconic image of Nancy on the cover of the first book in the series was Robin's very first attempt at drawing the fancy girl, which Robin created as a simple character study when the manuscript was first sent over.
Fancy Nancy (HarperCollins, 2005) stayed on the New York Times Best Seller List for 99 weeks — to be joined by additional titles in the series (which all together have landed on the prestigious best seller list for more than 330 weeks). The first Fancy Nancy has been translated into 22 languages, including Bulgarian and Hebrew. More than 80 Fancy Nancy titles are in print, including 8 chapter books for older children, and the various books in the series have sold over 34 million copies.
Soon after the first book came out, the Fancy Nancy® brand was picked up by a major licensing company and within just a few years' time, more than 30 licensees signed on, including dolls, puzzles and games, accessories, apparel, party goods and home decor.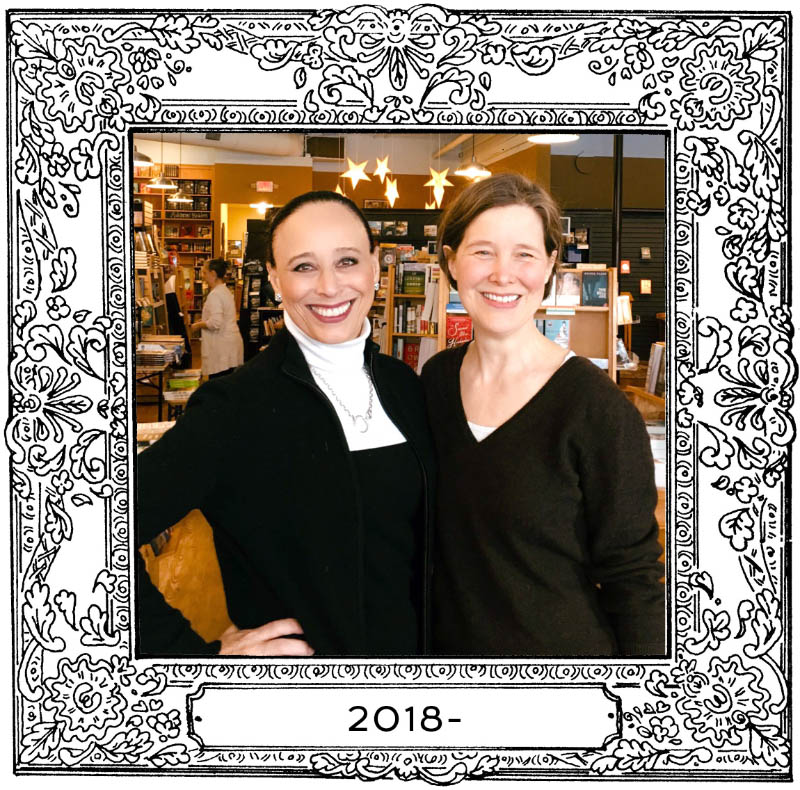 Fancy Nancy: The Musical, by New York's Vital Theatre, lead to an original Off-Broadway cast recording, which won the 2013 "CD of the Year Award" from Creative Child Magazine's annual Creative Child Awards Program. The stage show toured America and Canada for 7 years as well as a number of ballet productions of the Fancy Nancy story have been performed nationally.
In March of 2015, Disney Junior signed for the rights to create an animated television series starring Fancy Nancy, which premiered in July 2018 to rave reviews. The popular Disney Jr. show has been picked up for a second season, is nominated for two Daytime Emmy Awards for both writing and directing, and is being shown worldwide, having been dubbed into over 15 languages. In addition, new merchandise is available with Fancy Nancy's new look and the Fancy Nancy character is greeting fans at Disney's Hollywood Studios theme park as well as at Disney California Adventure Park.
While working on the Fancy Nancy series, Robin illustrated the New York Times best selling Tea for Ruby (Simon & Schuster, 2008) by Sarah Ferguson, the Duchess of York, as well as You Made me a Mother (HarperCollins 2016) by Laurenne Sala.
And life after Fancy Nancy continues to be glamorous for Robin with the release of her first book with international best-selling author Ann Patchett, Lambslide (HarperCollins, 2019), to be followed by a second book by this incomparable duo, Escape Goat, to be published in 2020. Both books have a bit of a political spin to them, and Robin is excited to share their important messages – the power of the vote and the importance of taking responsibility for one's actions – to her legions of young fans.
Robin lives in San Juan Capistrano, California, with husband, attorney Robert Berman, and two golden doodles, Audrey Hepburn and Pablo Picasso. She has two grown children, Sasha, a special effects make-up artist, and Benjamin, a musician and producer. Her endeavors to raise money for various arts programs in her community to benefit children with disabilities is a continuous dedication.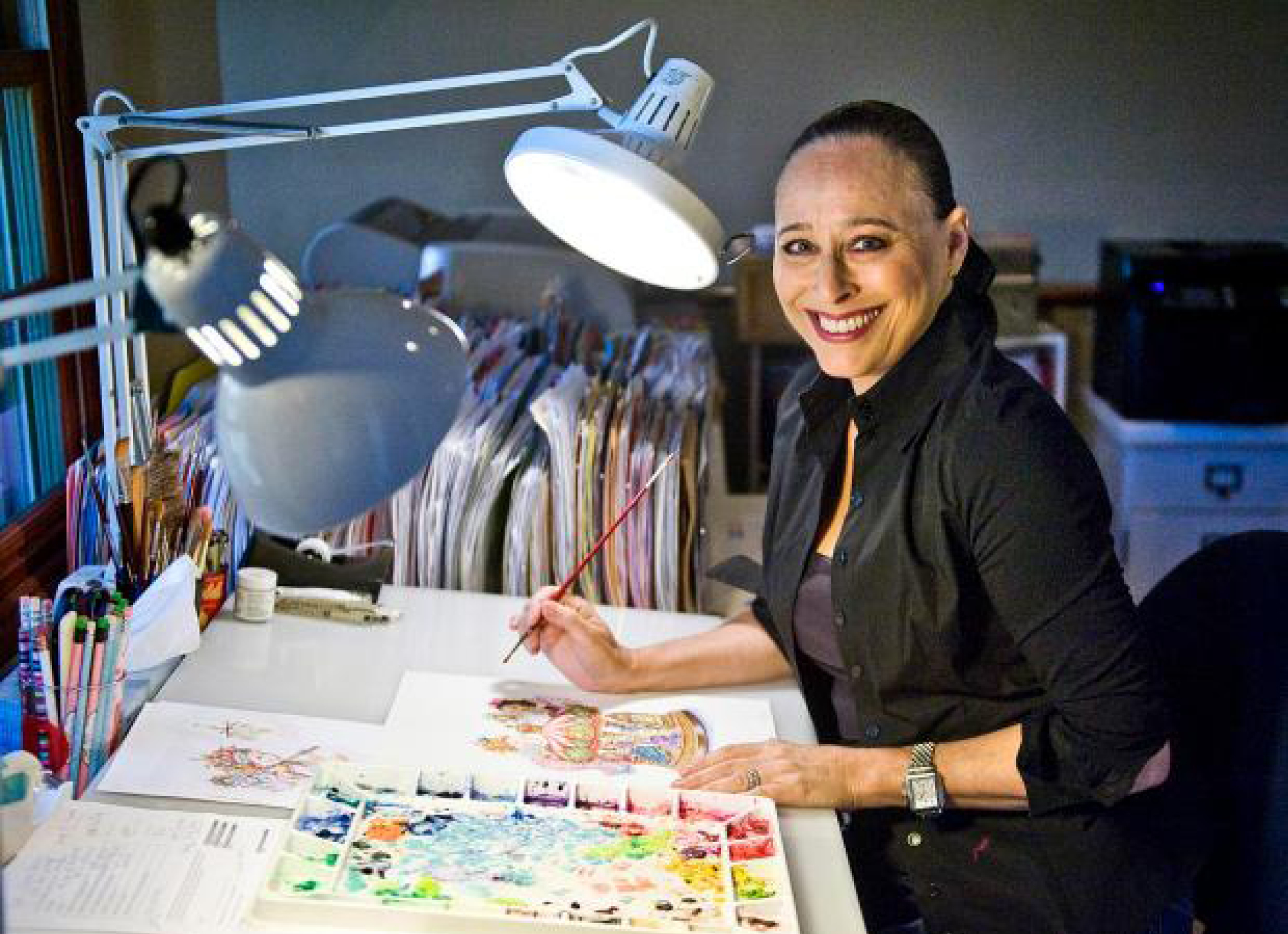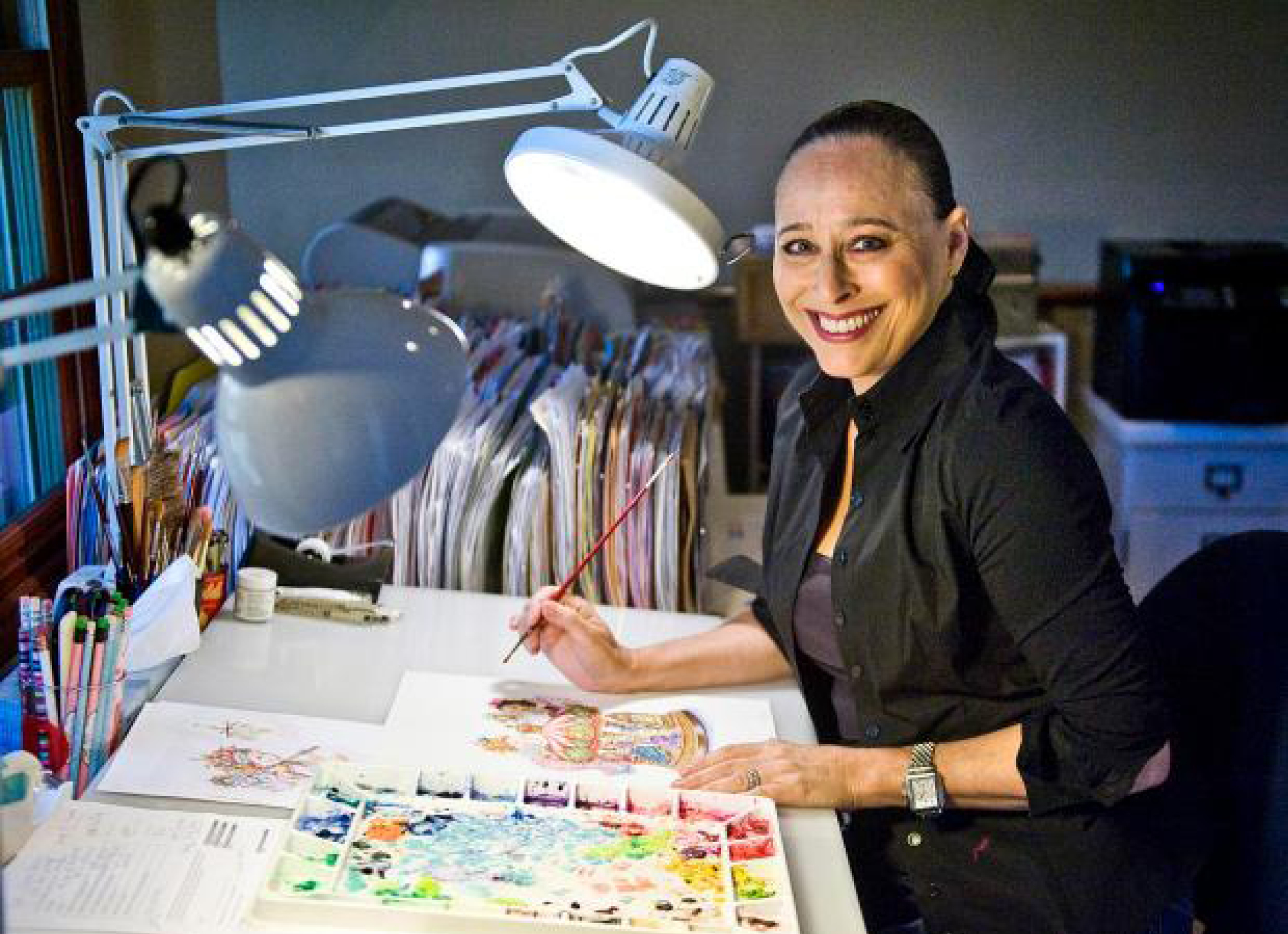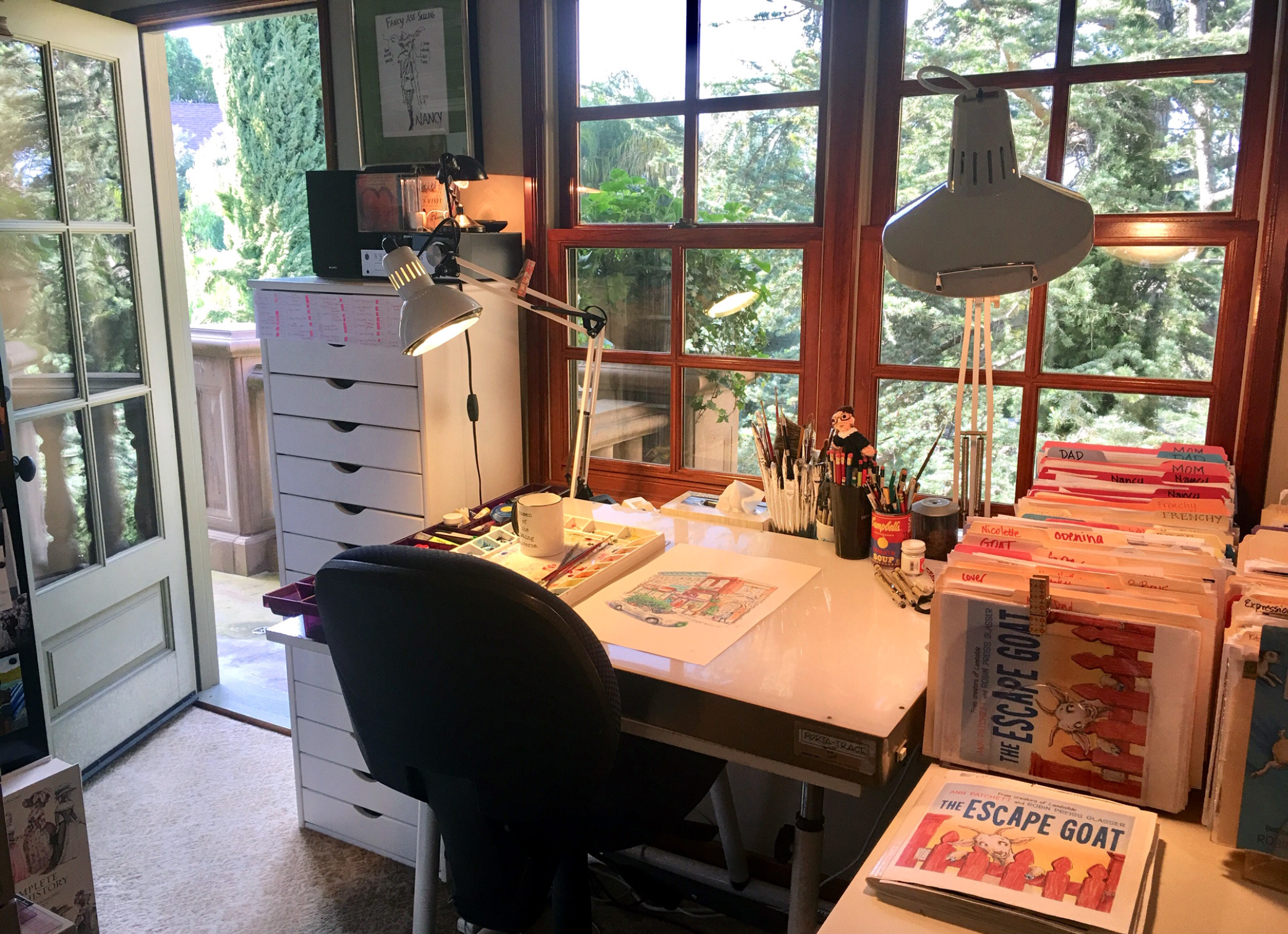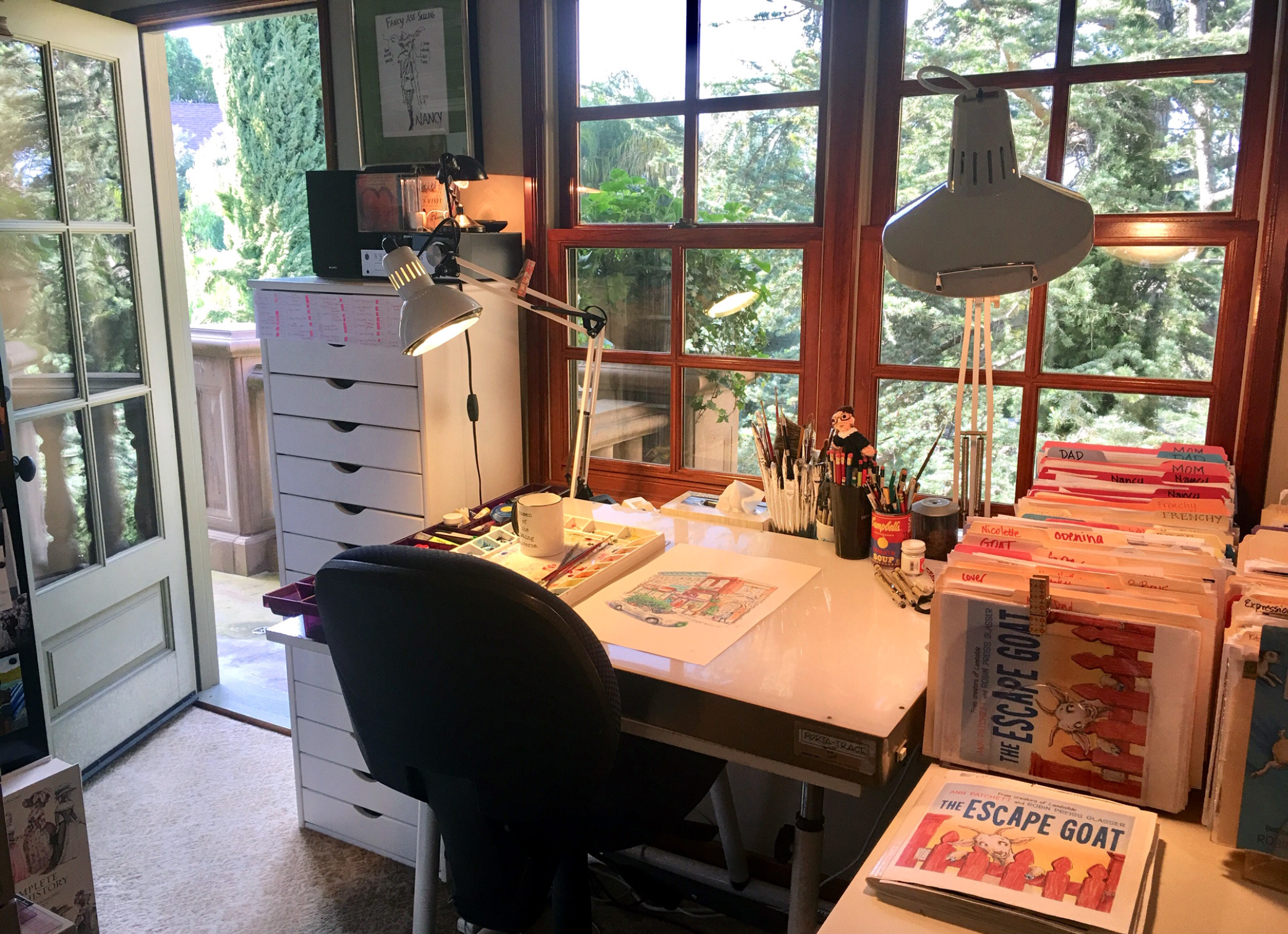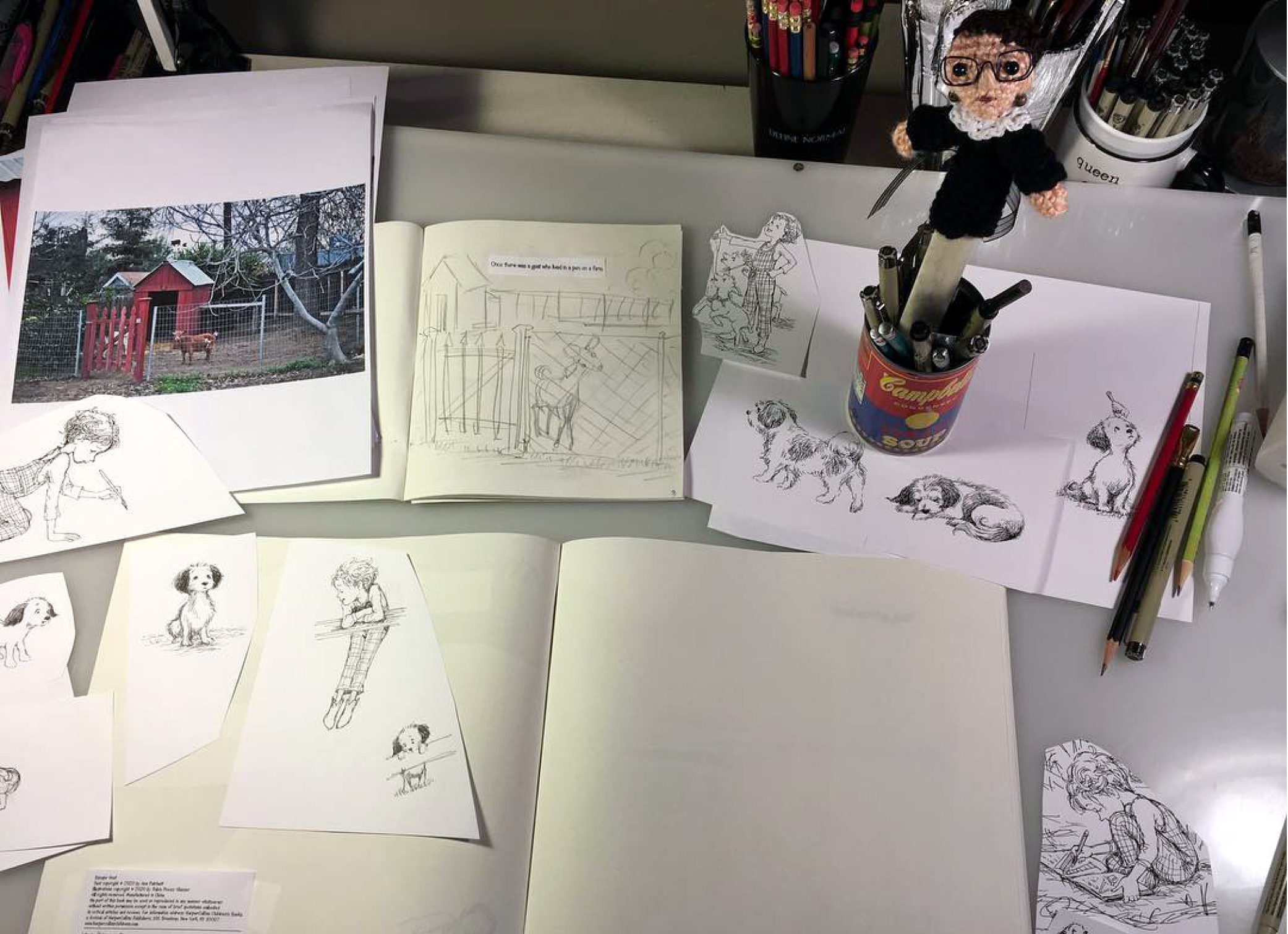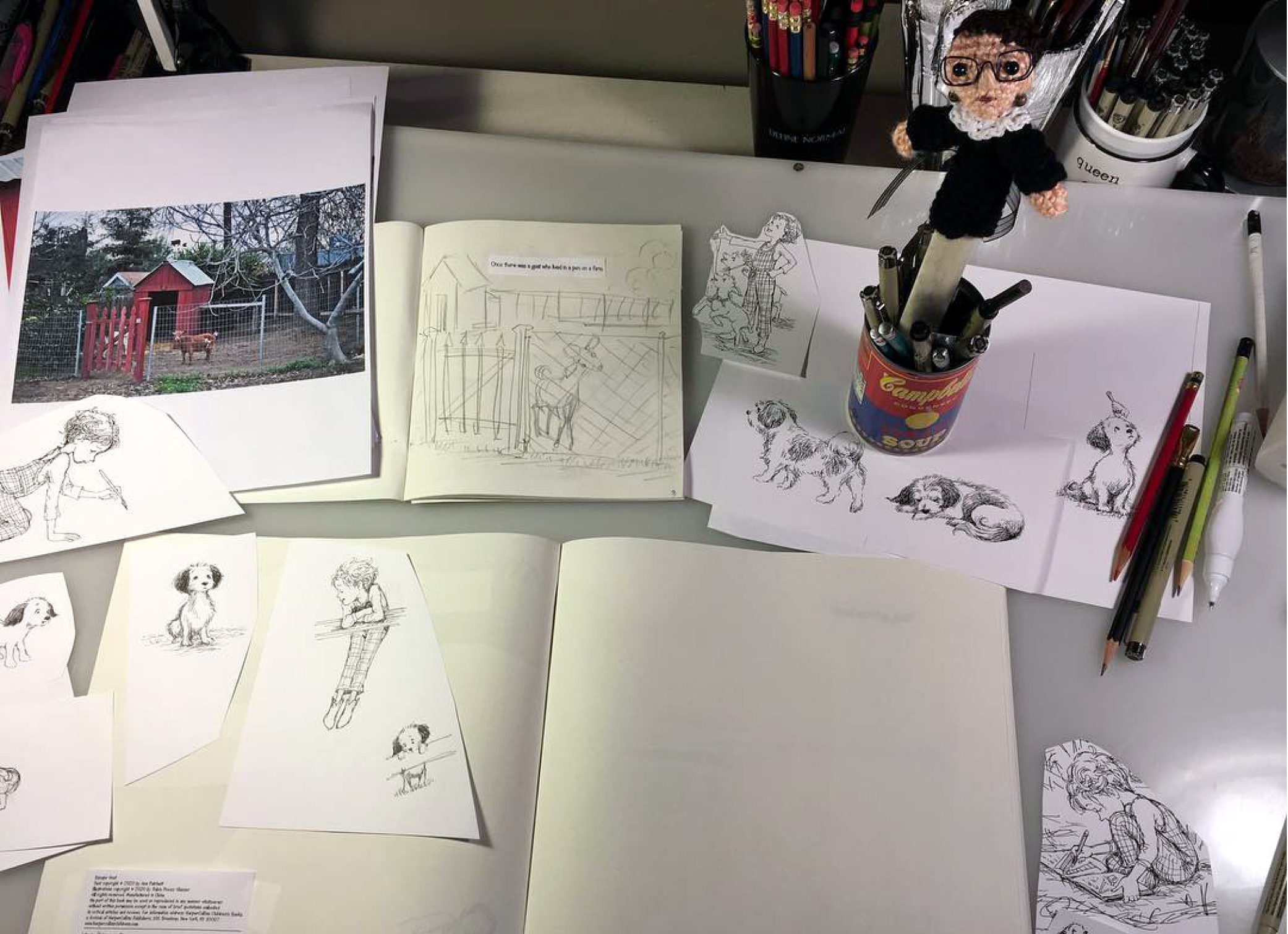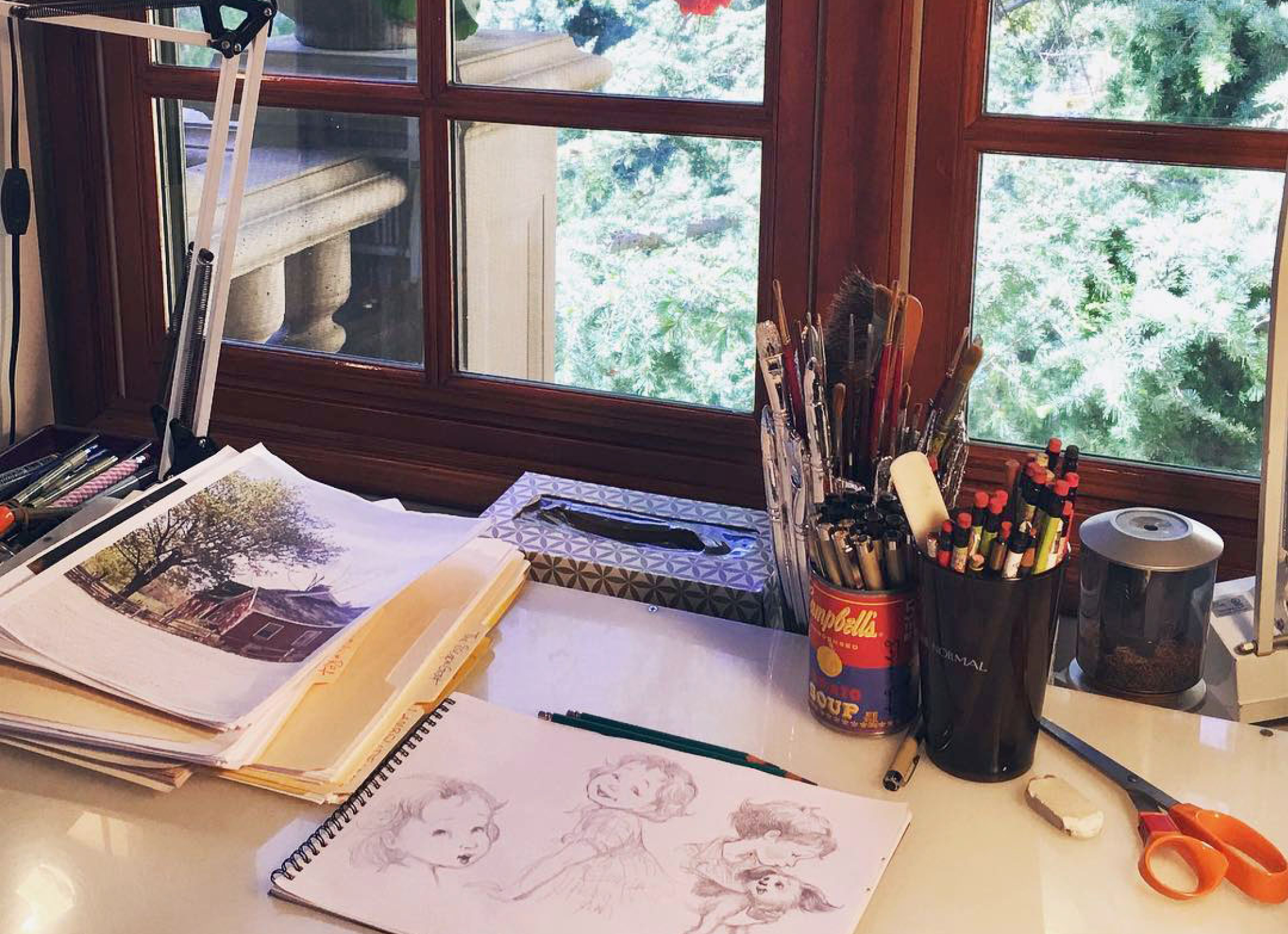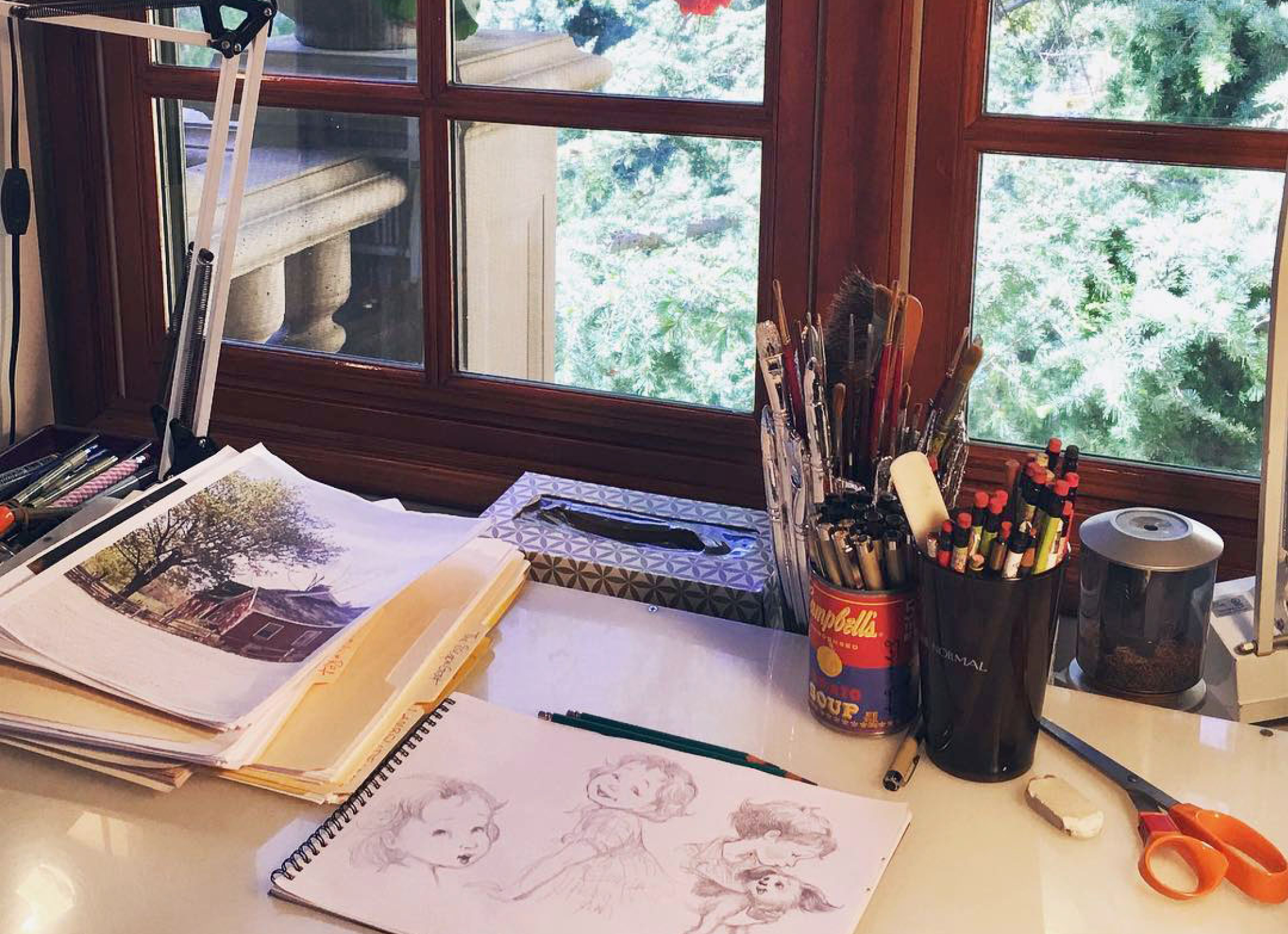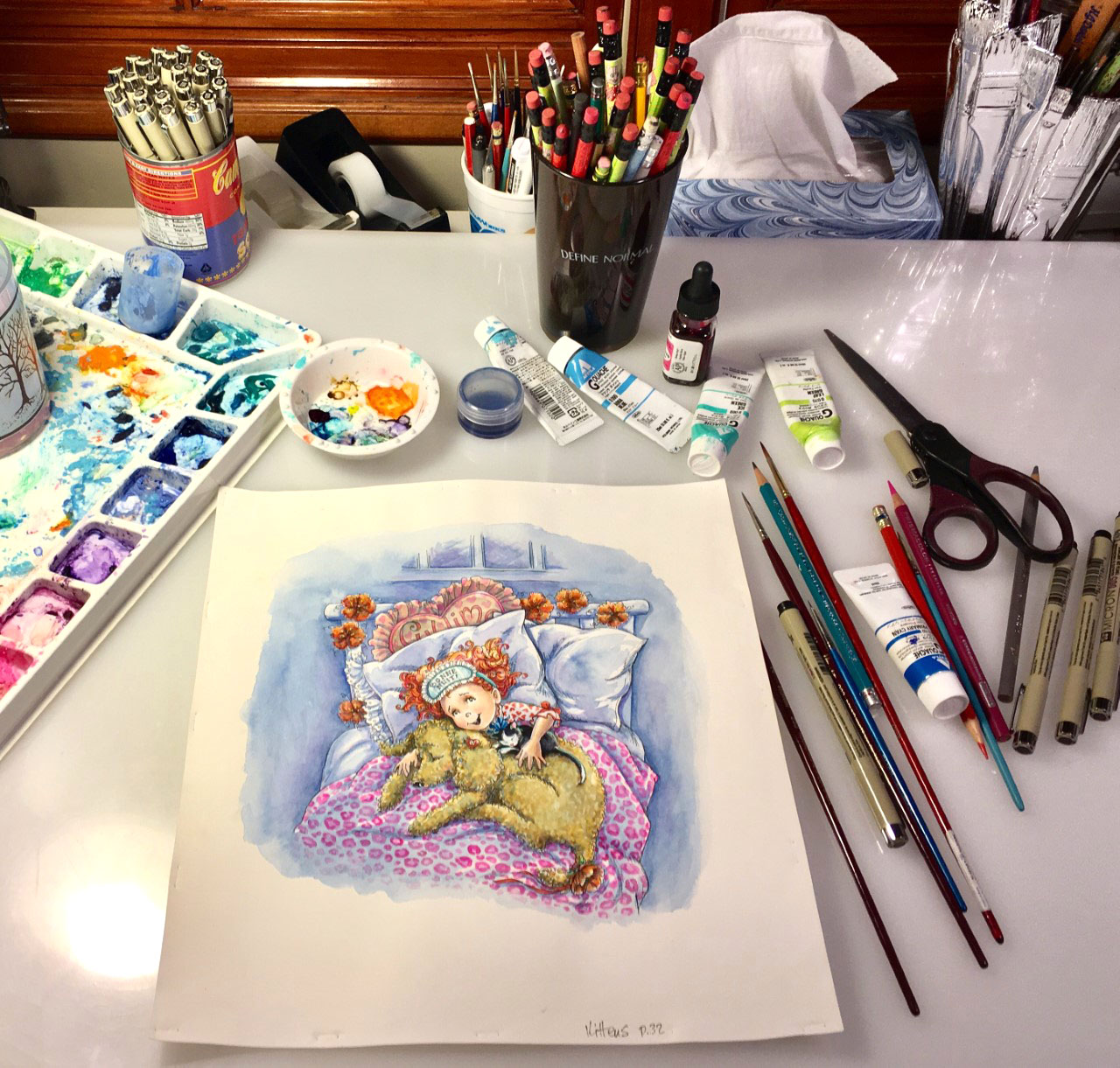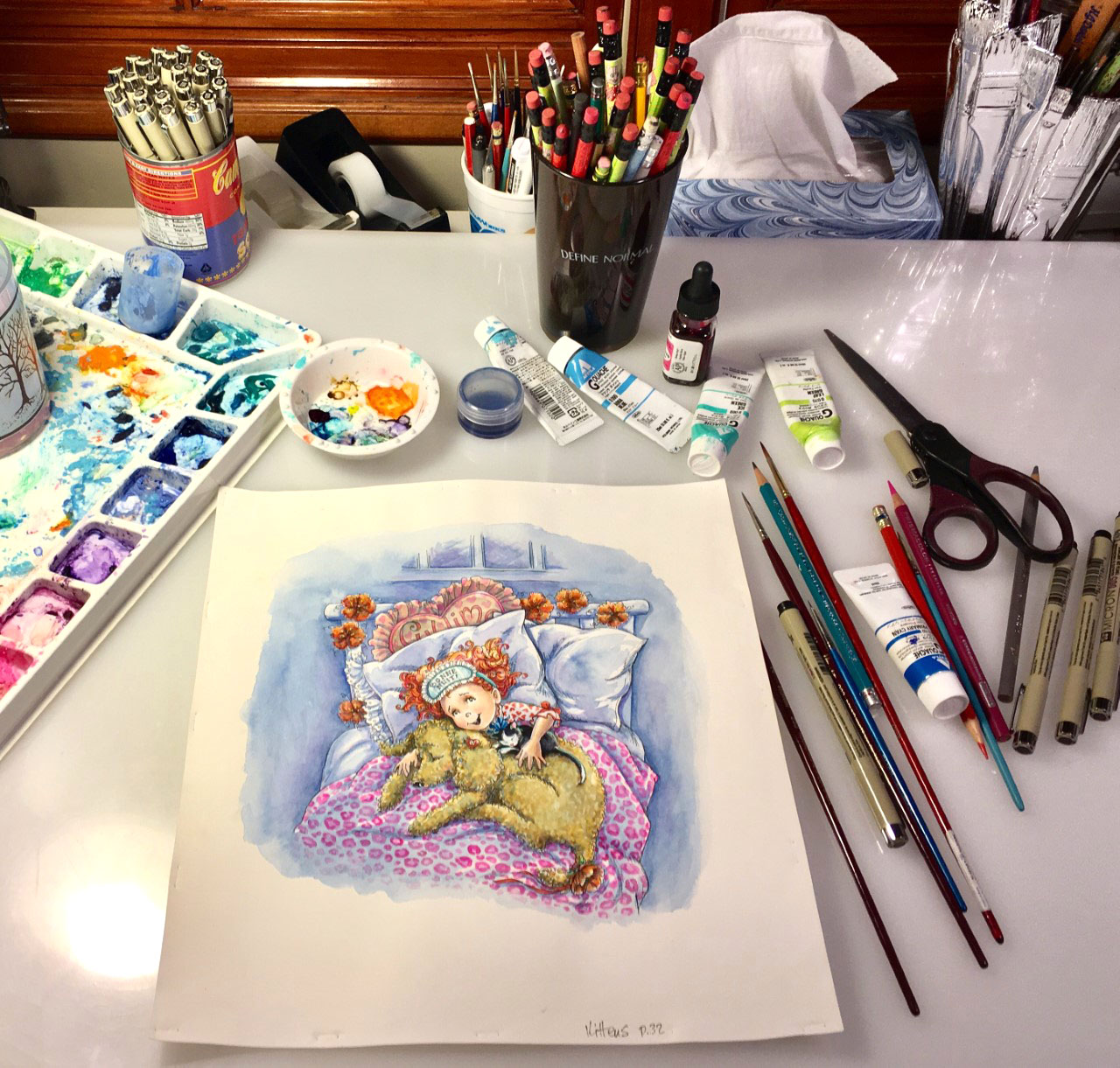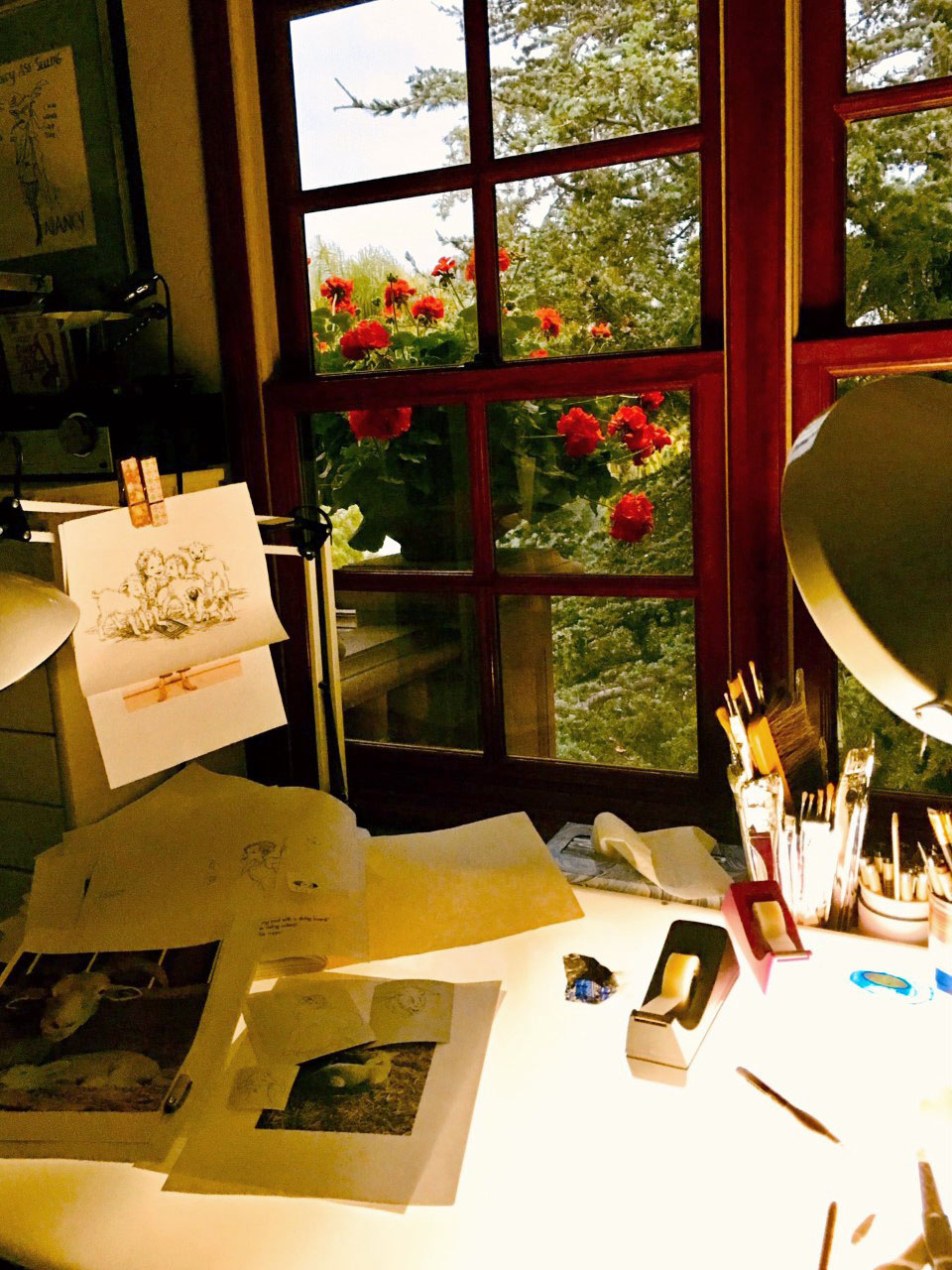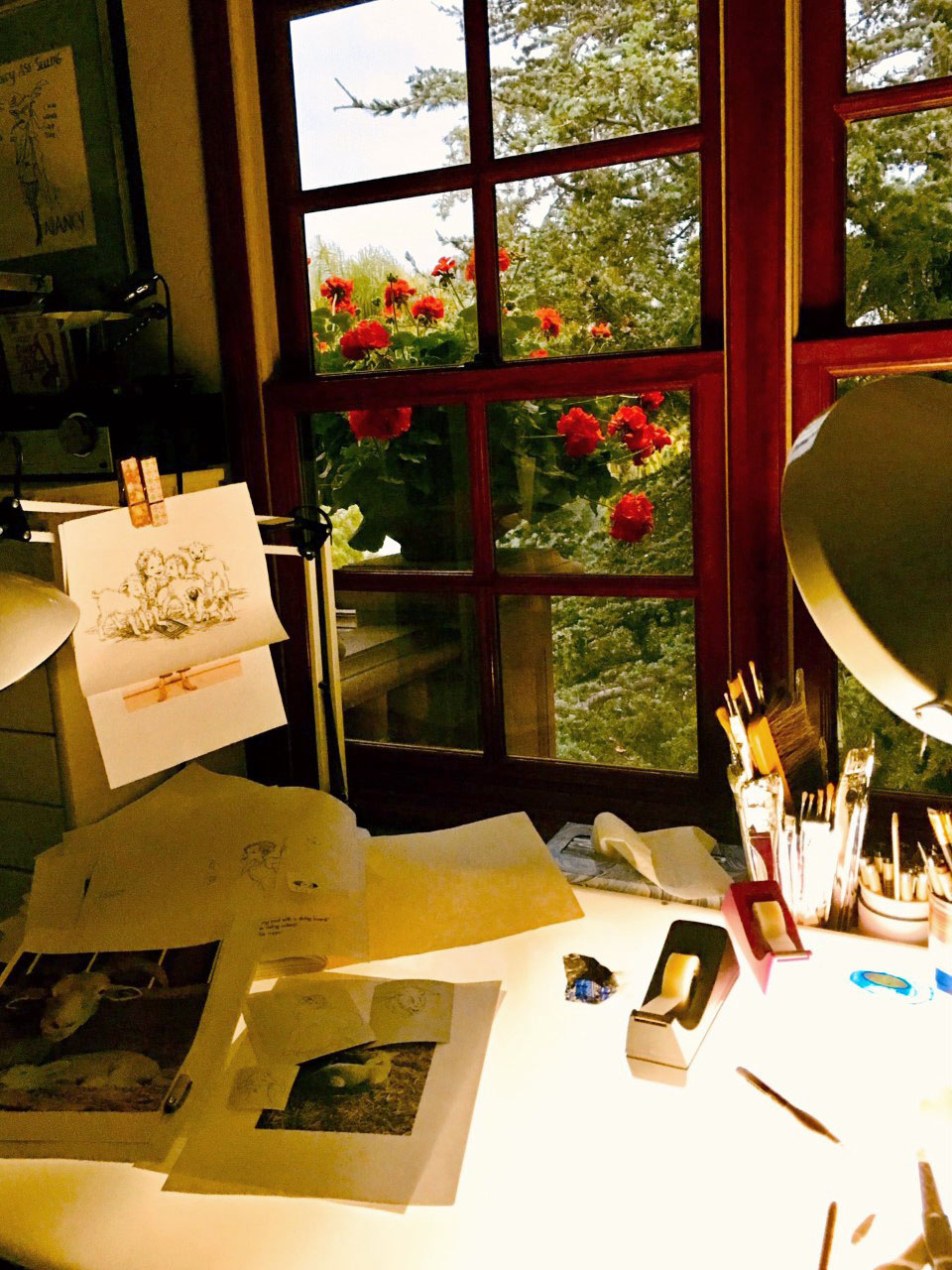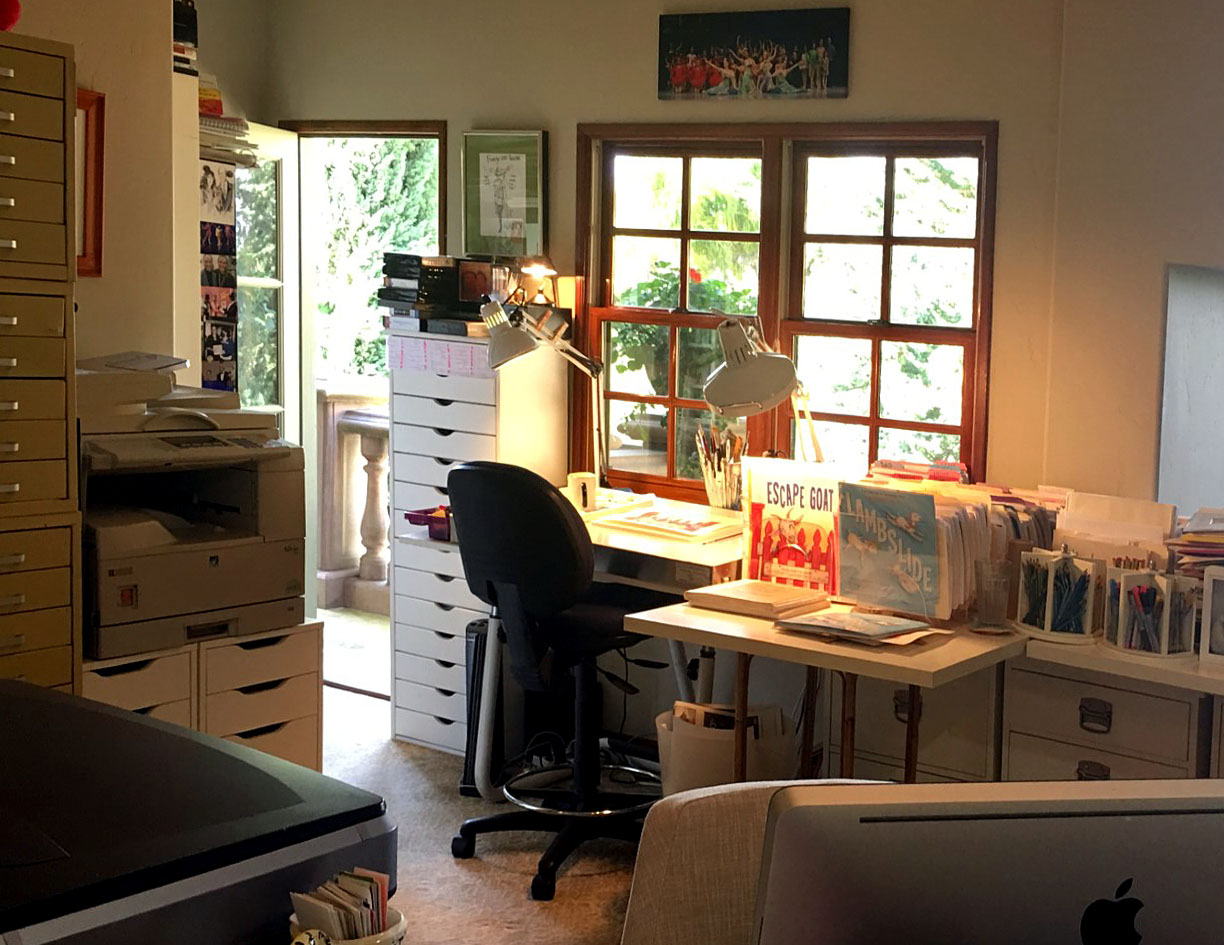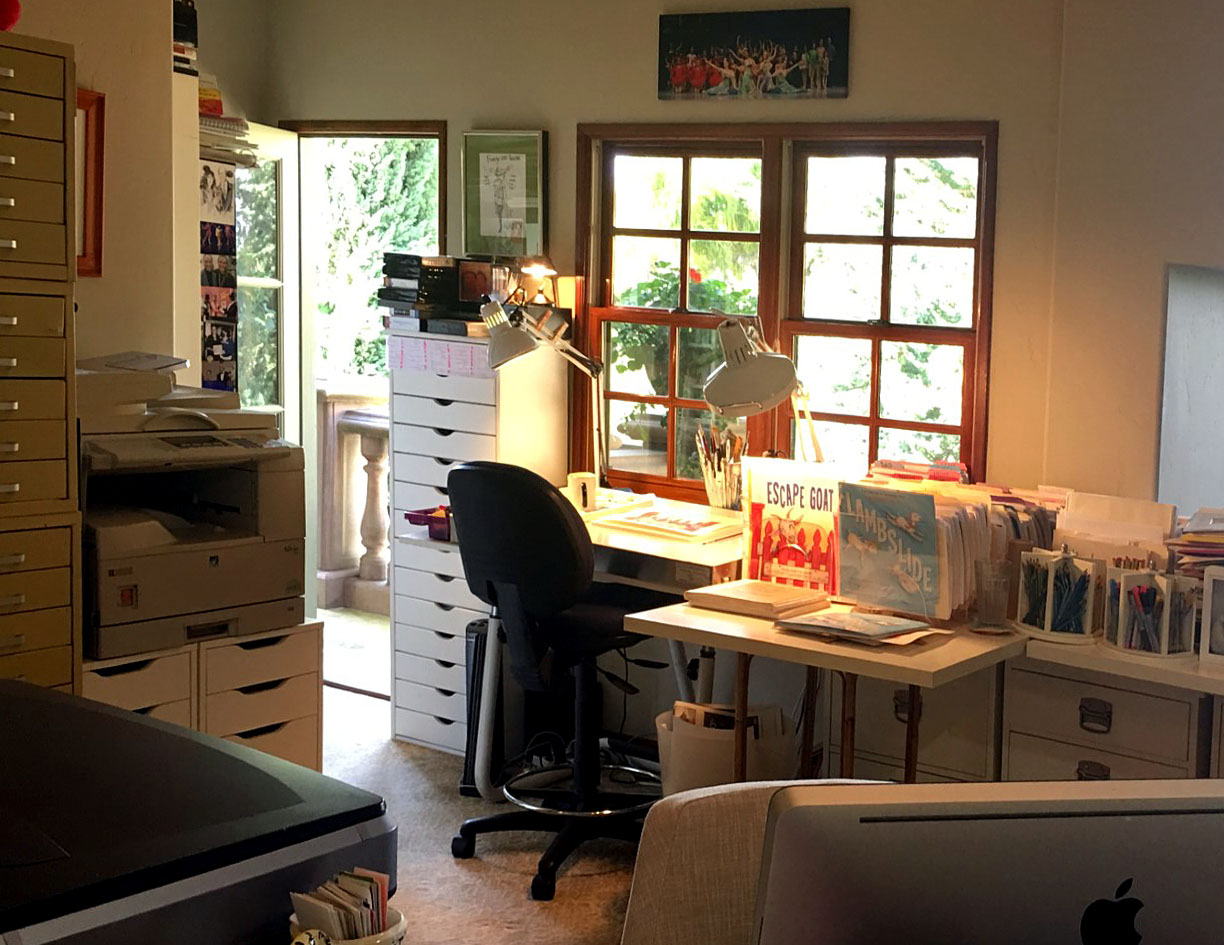 Welcome to my studio! It's on the top floor of my house and I feel like I'm in a nest as it's surrounded with windows looking out onto the tops of trees and 2 balconies filled with flowers. This is Southern California after all, so there's always something in bloom. My studio is a suite of rooms that includes a bedroom (for much needed naps,) workspace with lots of bookshelves, work tables, my drafting table, Xerox machine, 2 printers, a scanner and a wall of flat files for storing all of my sketches, dummies and final art.
I often spend about 80 hours a week working up there so it's good I have a lot of space. My studio is filled with artwork, family photos, and mementos that make me happy. Usually underfoot are Audrey Hepburn and Pablo Picasso, my two nutty Goldendoodles who nudge my drawing arm while I'm working, lie down on my feet when I need to get up and Xerox something, run out to the balcony to bark madly at a bird, or trip me when I go downstairs to get some food. Sometimes they need so much attention that I have to bring them to my husband Bob and say: "Hey—you take the dogs for a while—they're driving me crazy!" We love them very much.
My work schedule is pretty regular. Most of the time I work on my books from about 5:00 in the evening until 2 or 3 in the morning. Those are my desk hours. Up until 2 pm I am mostly dealing with e-mail or I'm on the phone working on the business side of things, since I'm in California and the people I work with are generally on the East Coast so I need to catch them before they go home. I have between 2 and 5pm to myself. That's when I get to go to the doctor or go out to buy some shoes – basically take care of life. Bob is retired from being an attorney, so he's always around, but he's less needy than our dogs. He is really good about not disturbing me. He knows when I'm in my studio and I crank up the music really loud or have a book on tape going, that I am in "the zone"—drawing or painting. He'll text me, "Hey, you want to take a break and have some coffee on the terrace together?" Or: "I'm going food shopping, text me a list." Or: "Hey, you take the dogs for a while—they're driving me crazy!"